Kahlua
This guy is what i call my 'main man'. He is a hard driving leader who is always ready to go. Lou, or Louey as we sometimes call him is a 4 yo and is totally crazy to run when we hook up, he creeps backwards and then bangs forward in a frenzy while barking. A affectionate boy in the yard, he loves the attention and also enjoys coming into the house and taking a nap spread eagled across the lounge room floor!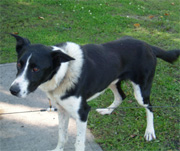 Rambo
Is the 'big boy' of the kennel, weighing in around 60 pounds. He is also the 'top dog' of the pack and is a awesome leader. He is a hard driving leader who can really open up and reach great top end speeds. He is also has a nice efficent trot which is more useful in distance racing. Rambo loves it when you scratch his tummy. Rambo is the personal favourite of Jeff, which ensures he gets plenty of love and attention.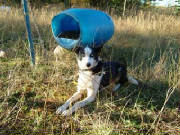 Libby
I call her 'old faithful', a dependent leader who has always been willing to lead and listen. Libby is also a wonderful to teacher to the younger dogs in the team. She has a protege, Boots, who she is working with in lead. Libby loves her house and is very protective of it. When other dogs are running free in the yard she chooses to stay inside her house and guard it from the others. She does these unsual scream-growls to any dogs that dares get too close!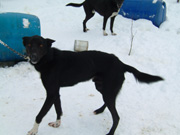 Boots
Or 'Bootsey, Mootsey' as he likes to be called in such an attention seeker in the yard. He loves to get pats and jumps up and then nuzzles his head into you. A yearling with so much potential he is a real joy to run and is amazing me with his focus and drive.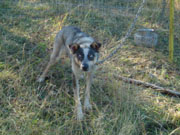 Sitka
well we started off called her Sitka, which was lengthened to 'Sitka, Mitka' and now we usually just call her Mitty. She is a real goofball, a character, with a personality all of her own. With piercing blue eyes she turns her head side to side while looking at you as if trying to say 'whats going on?'
Now she has figured out what being a sled dog is all about, it took her a while but now she is really clicking. Mitty is running lead and is showing real potential, she is always working hard in the team whether its pulling up a mountain or sprinting back down.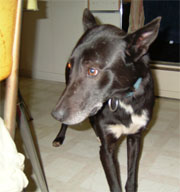 Perro
Is a team dog who seems to improve with each run. A shy boy who was a total spooky dog when we first got him a couple of months ago. With dramatic improvement on the confidence front i am really looking forward to working with him this season.
Guiya
Is a yearling that is doing great in the team. Always looking strong on every run, whatever the speed or distance.