our first white christmas!
we were at a friends christmas eve party and we looked out the window to see it was snowing. the snow continued through the night and we awoke to 10cms of fresh white stuff!
what a great way to celebrate christmas. A memorable christmas for sure, experiencing something that was so different to what we are used to.
this picture was taken from our back door.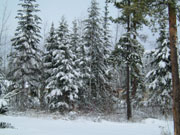 Posted by houndyhuskies at 7:33 PM WAT