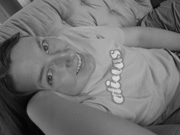 here i am relaxing, things are starting to settle down now, with winter coming to a close. Can't wait until next season !
Already i am preparing for next season. One of the things we have been doing is free running the dogs at home, this will be a great way to keep them happy in summer and maintain a base level of fitness.
I am also looking for some new additions to the team for next year. The kennel is in a real building phase, so along with some puppies i am looking for solid, proven adults. That way the adults will be able to teach those rascally puppies a thing or two!
Posted by houndyhuskies at 11:12 PM WAT
Updated: Friday, 18 March 2005 8:42 PM WAT